We take great care to ensure your dog is placed in the most appropriate accommodation area taking into account their size, age, temperament and breed. We want all of our guests to feel right at home!
​Our dog pens are spacious with the sleeping area enclosed and the outside area open but protected from the sun and rain. Each has a large, comfy trampoline bed with a heated sleeping pad underneath. In winter there is in-slab heating and in summer our pens are shaded. We also have a number of extra large rooms that can accommodate same family members, large breeds or those who need more space to move around.
We provide two meals per day of a high protein formula providing highly digestible nutrition for your dog, which suits most breeds. If your dog is a fussy eater or has special dietary requirements we are happy to serve their own food. Please ensure meals are pre-packaged in individual bags or charges will apply.
​After a daily health check and breakfast, all of our guests will enjoy group play of up to 1 hour.
​Out of peak periods, you may wish to supply your own labelled bedding, blanket or special toy. As the boarding environment is very different to the home dogs can behave differently and we do not guarantee these to be returned in the same condition as supplied.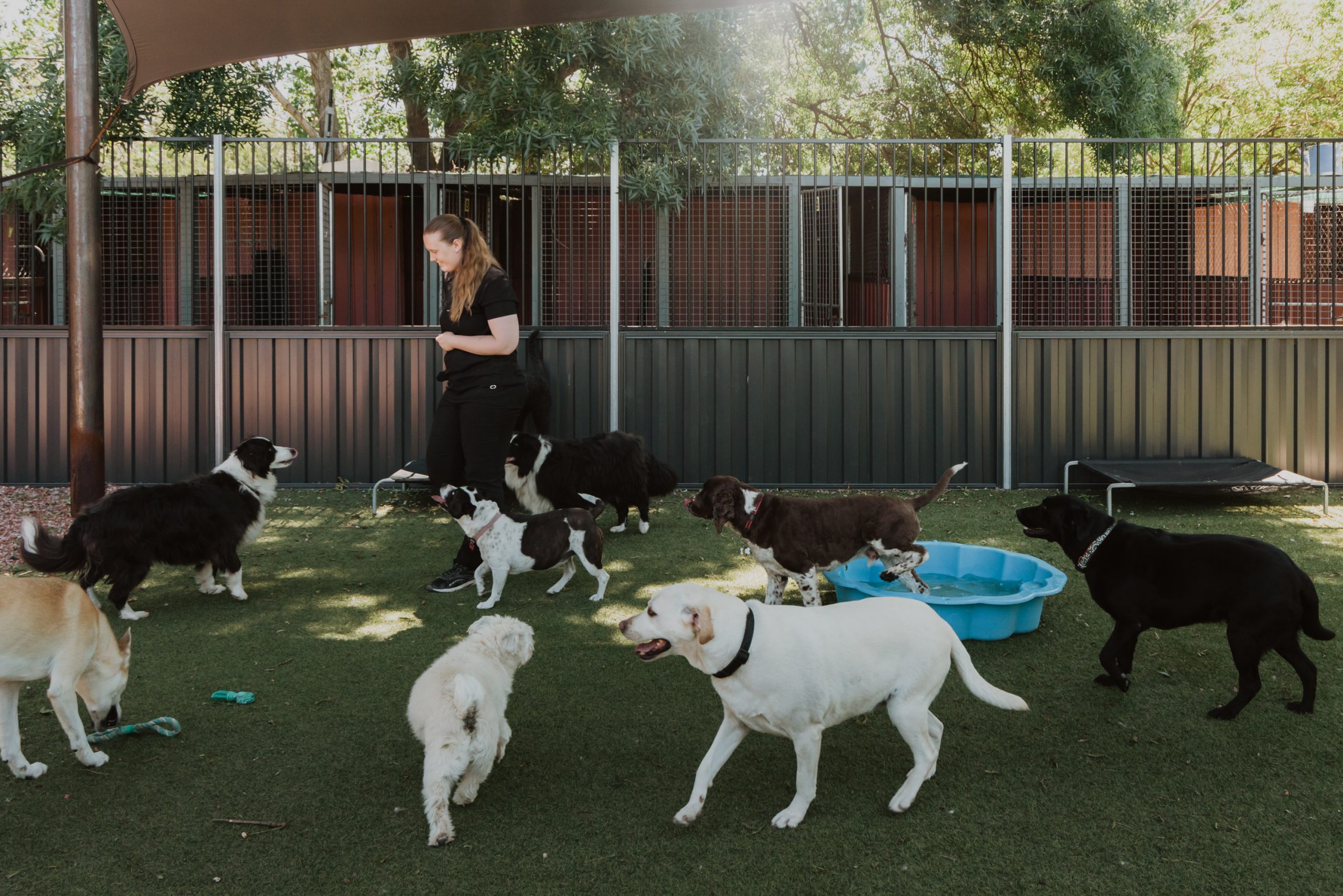 What's included
A lunch time meal is served of high protein kibble. Depending on the breed your pup may be fed twice daily. You may bring in your own labelled & portioned food
1 group monitored playtime of 1 hour
Accommodation in own lodging with raised trampoline bed and in-slab heated sleeping area in winter
Morning health check & wellness checks and continuous monitoring of your pets throughout the day
Daily housekeeping services with strict veterinarian grade cleaning protocols and clutter free environment
Love & attention always!
$38 – $50 per day depending on size
BOO (board on own, single play dogs) $62 off peak – $110 Peak
A surcharge of $4/day applies in peak periods & public holidays.
Optional extras
On lead 30 minute enrichment walk around the estate – $20 first dog, $15 second dog
Additional group playtime – $20 for 1 hour
Farm play and swim – $30 for per day
Kong treat or pigs ear – $5 per treat
Ice block treat, summer – 100% pure frozen stock – $3
Pigs ear – $5
Medication – From $3 per administration
Special diet food & preparation – $5 per meal
Photo Update Package – up to 2 photos – $10.00
Wash, blowout and brush – $35 to $70 and is size and breed dependent